Hattha Bank PLC. and GlobeSO Service Co., LTD signed on Memorandum of Understanding (MoU) for a Strategic Partnership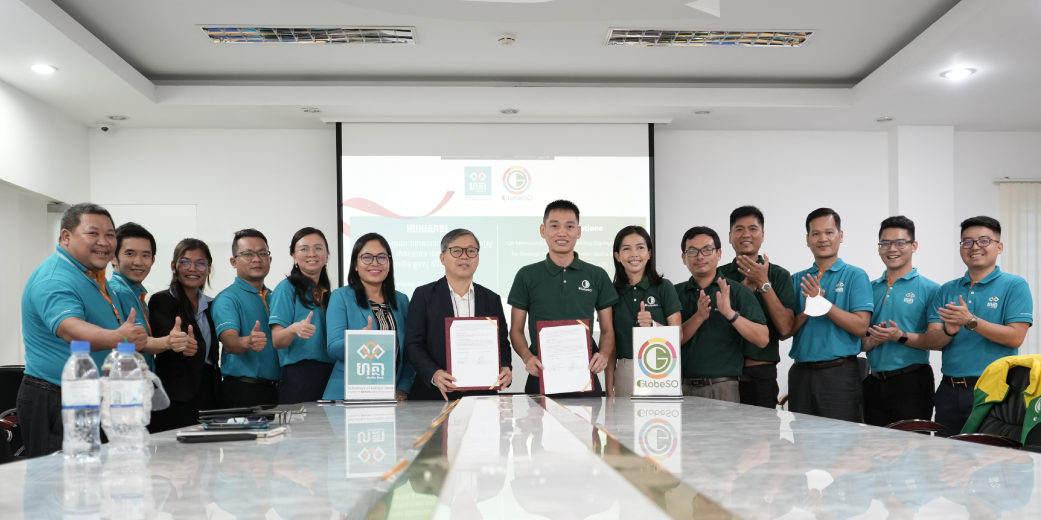 Phnom Penh, July 19, 2022: Hattha Bank, one of the leading banks in Cambodia has signed a Memorandum of Understanding (MoU) for a Strategic Partnership with GlobeSO Service Co., LTD, aiming
1. To introduce customers between Hattha Bank PLC. and GlobeSO Service Co., LTD
2. To allow customers of GlobeSO Service Co., LTD to pay service fees via Hattha Mobile
3. To allow GlobeSO Service Co., LTD customers to deposit in GlobeSO Wallet and transfer from GlobeSO Wallet to Hattha Mobile
The signing ceremony was held in Hattha Bank of Khan Chbar Ampov Branch, presided by Oknha Hout Ieng Tong, President and CEO as well as management of Hattha Bank and Mr. Lay Kiry, Chief Executive Officer as well as Colleagues.

Oknha Hout Ieng Tong, President and CEO of Hattha Bank said "the collaboration between Hattha Bank and GlobeSO Services Co., Ltd. today is to facilitate GlobeSO Application users through quick and easy payment to every service in the GlobeSO Application by using Hattha Mobile of Hattha Bank." He continues, "Hattha Mobile not only provides easy and fast payment services, but it also has many other main features including remittance, fund transfer, mobile top up, loan repayment, and others."
Finally, he believed that the integration between Hattha Mobile with GlobeSO Application will provide even more convenience to users, especially in terms of spending less time and high security.