Hatta Bank Celebrates Tree Planting Event Under the theme: Planting trees for our environment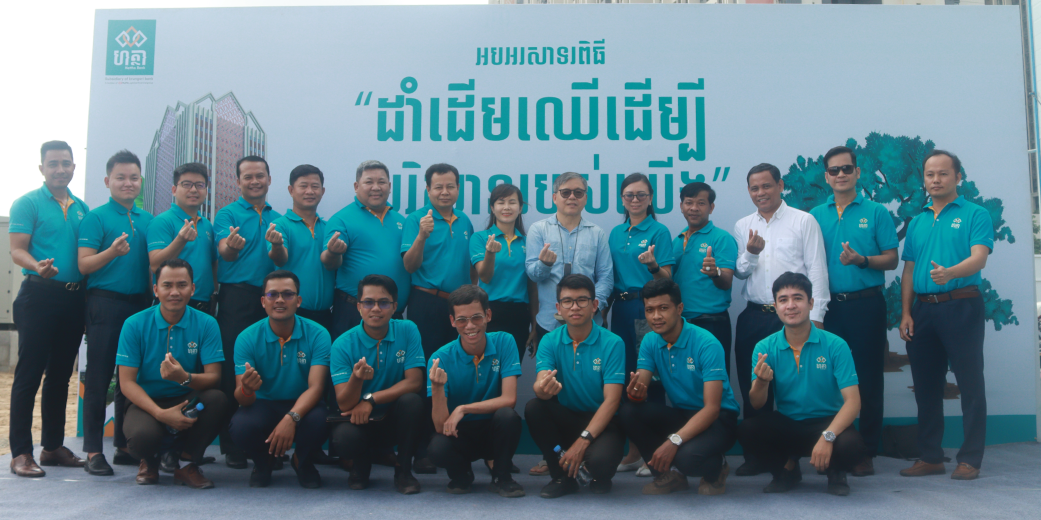 Phnom Penh, June 03, 2022: Hatta Bank is the second-largest branch network in Cambodia has organized a Cooperate Social Responsibility event on preserving environment under the theme "Planting Trees for our environment". The event was held at new Head Office Tower of Hattha Bank along Techo Hun Sen Blvd. (St. 60m) and was presided by Oknha Hout Ieng Tong, President and CEO as well as senior management, staff of Hattha Bank and journalists from various media as well.
Oknha Hout Ieng Tong, President and CEO of Hattha Bank said "Trees are very important for lives on our planet, they provide oxygen for humans to breathe and help preventing climate change, which is leading to global warming". He continued, "Planting trees in the premises of the New Head Office Tower which is under construction today is a contribution to reduce global warming and keep the environment fresh and provide shade for the public as well as customers, especially for Hatta Bank employees who will be working in this new Head Office Tower. Finally, he believed that today's activity will become a very good role model for promoting and encouraging to have more tree planting.
About Hattha Bank: Hattha Bank officially transformed from Hattha Kaksekar Microfinance Institution Limited into a commercial bank in August 2020 after providing financial services in Cambodia for over 27 years.
As of April 2022, Hattha Bank has a total of 177 branch offices, 137 ATMs, and more than 500,000 customer accounts with a total portfolio is more than USD $ 1.9 billion and a total savings of nearly USD $1.2 billion. The total number of customers using ATM cards is almost 80,000 and the total number of customers using Hattha Mobile is more than 90,000. With a wide range of financial services to customers such as credit, deposit/savings, local money transfer services, local bank transfers, ATM services, mobile banking services, payroll services, as well as insurance referral agent and many other financial services.
Hattha Bank is a subsidiary of Krungsri Bank, the fifth-largest commercial bank in the Kingdom of Thailand, and a member of the Mitsubishi UFJ Financial Group (MUFG), Japan's largest financial group and also one of the largest financial services alliances in the world.