Hattha Bank achieves two major successes despite the rough times of the COVID-19 outbreak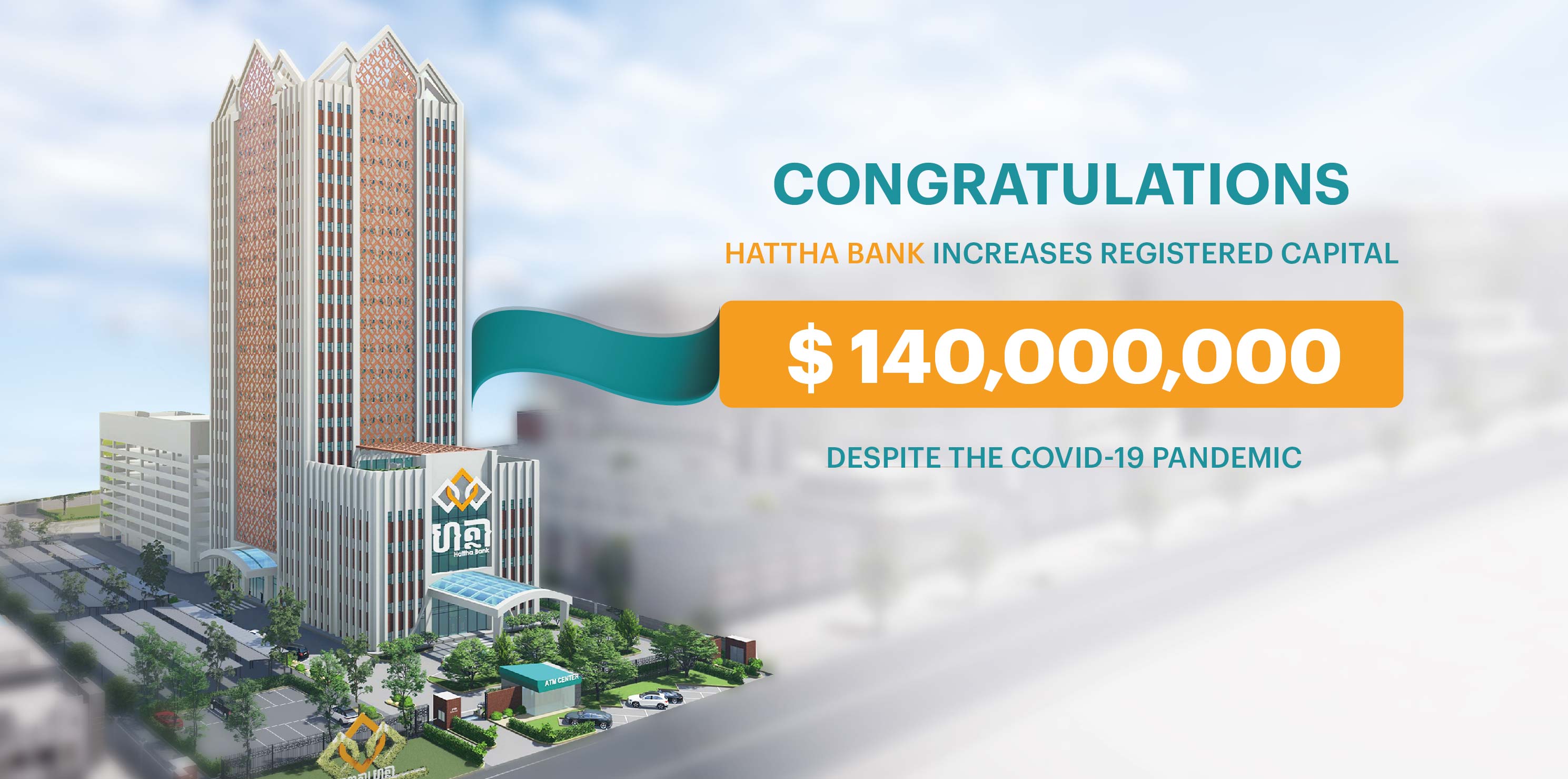 Phnom Penh, May 05, 2021: Despite the challenging circumstance during the COVID-19 pandemic, Hattha Bank has accomplished two significant achievements by gaining trust from the shareholders and receiving the additional capital injection of USD 25 million. More surprisingly, Hattha Bank also obtained the company's credit rating at BBB+ / stable for three consecutive years (Stand-Alone credit profile rating at A-) from TRIS Rating Co., Ltd., an international company from Thailand.
As the commercial bank, which is the second-largest branch network in Cambodia, Hattha Bank has earned its shareholders' trust (Krungsri in Thailand) and received an additional capital of USD 25 million on top of its current registered capital. As a result, the total registered capital of Hattha Bank has increased to USD 140 million. Through this additional capital injection, Hattha Bank will increase its capacity to expand the business operation to be more resilient, comprehensive and provide the most trusted banking services and new products to fulfill customer needs. Therefore, every customer will receive excellent financial services to improve their living standards and build a bright future.
At the same time, TRIS Rating Co., Ltd. from Thailand affirmed the company rating on Hattha Bank at BBB+ for three consecutive years based on Hattha Bank's operation and risk management assessment. Obtaining the company's credit rating at "BBB+" is based on critical indicators such as the efficiency of business network and branches nationwide, consumer protection, prudent risk management, strong market position, and strong financial and liquidity management.
About Hattha Bank
Hattha Bank Plc. has been transformed into a commercial bank in August 2020 after operating for more than 26 years as Microfinance Deposit-Taking Institution (MDI). Currently, Hattha Bank has 177 branches and 137 ATMs to offer various financial services such as loans, deposits, money transfers, payroll service, mobile banking, and insurance referral service.
Hattha Bank is a subsidiary of Bank of Ayudhya (Krungsri), the fifth-largest commercial bank in Thailand, and a member of MUFG Bank, the largest banking group in Japan, one of the largest and most diversified financial groups in the world.
More detail about Hattha Bank, please visit: www.hatthabank.com
About Krungsri
Krungsri (Bank of Ayudhya Public Company Limited and its group companies) is the fifth-largest financial group in Thailand in terms of assets, loans, and deposits and one of Thailand's five Domestic Systemically Important Banks (D-SIBs) with 75 years of history in the country. Krungsri is a strategic member of the Mitsubishi UFJ Financial Group (MUFC), Japan's largest financial group and one of the world's largest financial organizations. Krungsri provides a comprehensive range of banking, consumer finance, investment, asset management, and other financial products and services to individual consumers, SMEs, and large corporations through 665 branches nationwide.
More detail about Hattha Bank, please visit: www.krungsri.com