Hattha Bank and Forte Insurance Company Sign Agreement to Provide Clients with Better Financial Services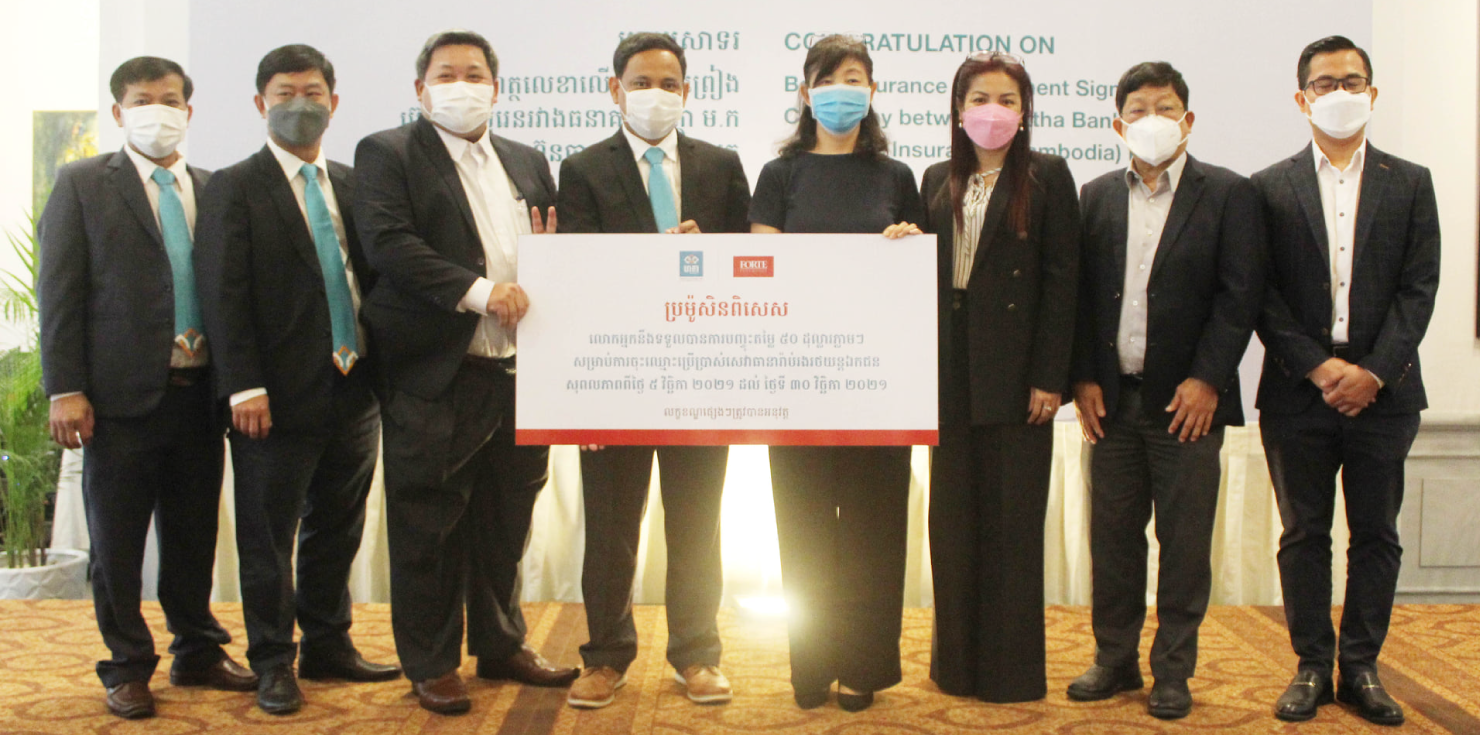 Phnom Penh, November 05, 2021 Hattha Bank, one of the leading banks in Cambodia, and Forte Insurance Company, a leading institution in the field of insurance, have collaborated and signed an agreement to provide insurance services. On car accidents, fire accidents and some other insurance to provide higher confidence and warmth for customers to use the service with easier and better conditions. Through this close partnership, both institutions strongly believe that will be a necessary response to the needs of customers, that is, a prosperous growth, both financially and protected from challenges. That can happen.
Mr. Chen Boranchanborath, EVP & Chief Legal of Hattha Bank, said: "As a mature bank that provides modern, confident financial services, Hattha Bank has nearly 30 years of experience with achievements. We are proud to have achieved this, and we believe that this insurance collaboration is another task that we need to do, which will further drive the growth of our customers in using our services. Provides warm protection and success in all circumstances. He added that we have decided to select Forte Insurance as a partner to provide fire insurance and other insurance services to our clients because the company is qualified to meet the needs as well as the conditions that support the interests of customers.
Mss. Zhao Haiming, Executive Vice President, Forte Insurance (Cambodia), said: "We know that the Cambodian economy has grown significantly in recent years. There are many luxury cars and luxury buildings in Cambodia, especially in big cities, so buying fire and vehicle insurance is very important for the owners of those buildings and vehicles. Because we cannot predict what will happen in the future. Mr. Chamroeun Rith continued, "Through this agreement, it will take the insurance sector in Cambodia to another level. I see that the understanding of the Cambodian people in the field of insurance has increased significantly now, so it is a good sign for our national economy. "I would like to thank Hattha Bank for its continued cooperation with Forte. As we all know, Hattha Bank is one of the leading banks in Cambodia and Forte is a leading company in the field of insurance. I hope that in the future we will have other products or services to serve customers according to their needs."
For more information, please contact:
Hattha Bank
Phone: 1800 212 222 (Free) | 023 999 266
Email: info@hatthabank.com
Website: www.hatthabank.com
Forte Insurance Company
Phone number: 023 885 077
Email: info@forteinsurance.com
Website: www.forteinsurance.com