Hattha Bank officially launches Hattha Smart Banking to continue providing the cutting-edge financial services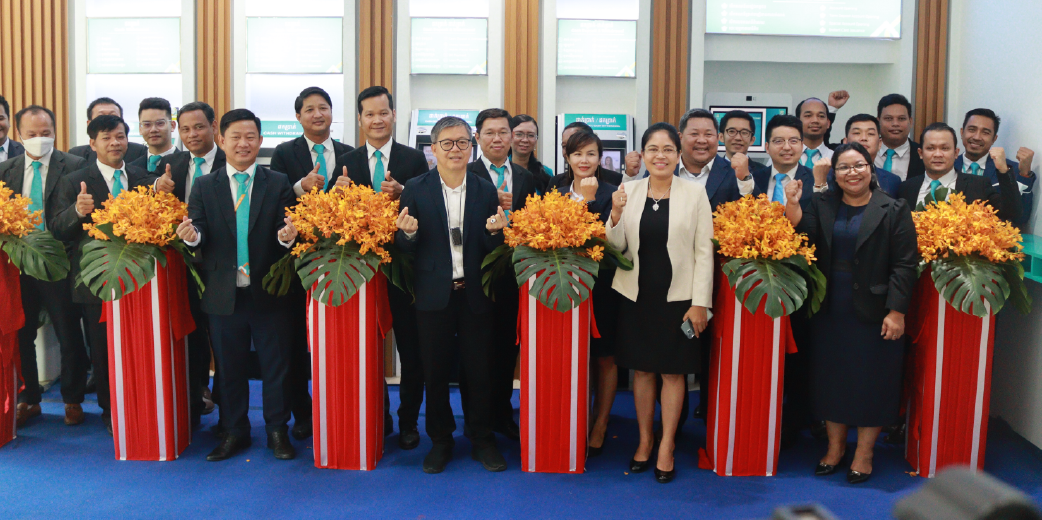 Phnom Penh, April 28, 2022, Hattha Bank, the second-largest commercial bank in terms of coverage network in the Kingdom of Cambodia, has officially launched Hattha Smart Banking to offer convenient banking services, easy to use 24/7, specially equipped with the latest technology, such as ATMs, Smart Teller Machine (STM), and many other high-tech services.
Oknha Hout Ieng Tong, President, and CEO of Hattha Bank said "Hatta Bank has a clear understanding of the needs of our customers, especially the needs of digital banking services, so Bank has invested a lot to establish and launch the Hattha Smart Banking today. We believe that Hattha Smart Banking can really facilitate the financial transactions of customers more easily, save time, especially as an important part for living and doing business in a new normal way in the Covid-19 context". He added, "As a first step, we have launched a branch in Chamkarmon, and in the nearest future, Hattha Smart Banking will be launched in many other branches/places in Phnom Penh and some major provinces."
Mr. Noun Virakdara, Chief Digital Officer of Hattha Bank said "With Hattha Smart Banking, customers can easily make a variety of financial transactions 24/7, free of charge and highly secure. These financial services include opening a savings account, opening a fixed deposit account, depositing / withdrawing money, transferring money in and across the bank, paying all kinds of bills, etc."
On this occasion, to celebrate another new achievement in the successful launch of Hattha Smart Banking, Hattha Bank also organized a promotion booth in front of Chamkarmon Branch Office for 3 days from 28th to 30th April, 2022 in order to provide information related to financial services and provide instant rewards to customers attending the event, including iWatch AirPods, umbrellas, eco-bags, and many other souvenirs.
For more information, please contact 1800 212 222 (free) or 023 999 266.
About Hattha Bank:
Hattha Bank officially transformed from Hattha Kaksekar Microfinance Institution Limited into a commercial bank in August 2020 after providing financial services in Cambodia for over 27 years.
As of March 2021, Hattha Bank has a total of 177 branch offices, 137 ATMs, and more than 500,000 customer accounts with a total portfolio of nearly USD $ 1.9 billion and a total savings of nearly USD $1.2 billion. The total number of customers using ATM cards is almost 80,000 and the total number of customers using Hattha Mobile is more than 90,000. With a wide range of financial services to customers such as credit, deposit/savings, local money transfer services, local bank transfers, ATM services, mobile banking services, payroll services, as well as insurance agents, and many other financial services.
Hattha Bank is a subsidiary of Krungsri Bank, the fifth-largest commercial bank in the Kingdom of Thailand, and a member of the Mitsubishi UFJ Financial Group (MUFG), Japan's largest financial group and also one of the largest financial services alliances in the world.