Hattha Bank Announces Its New Head Office Building With 40,000-Square-Meter Size Along Street 60 Meters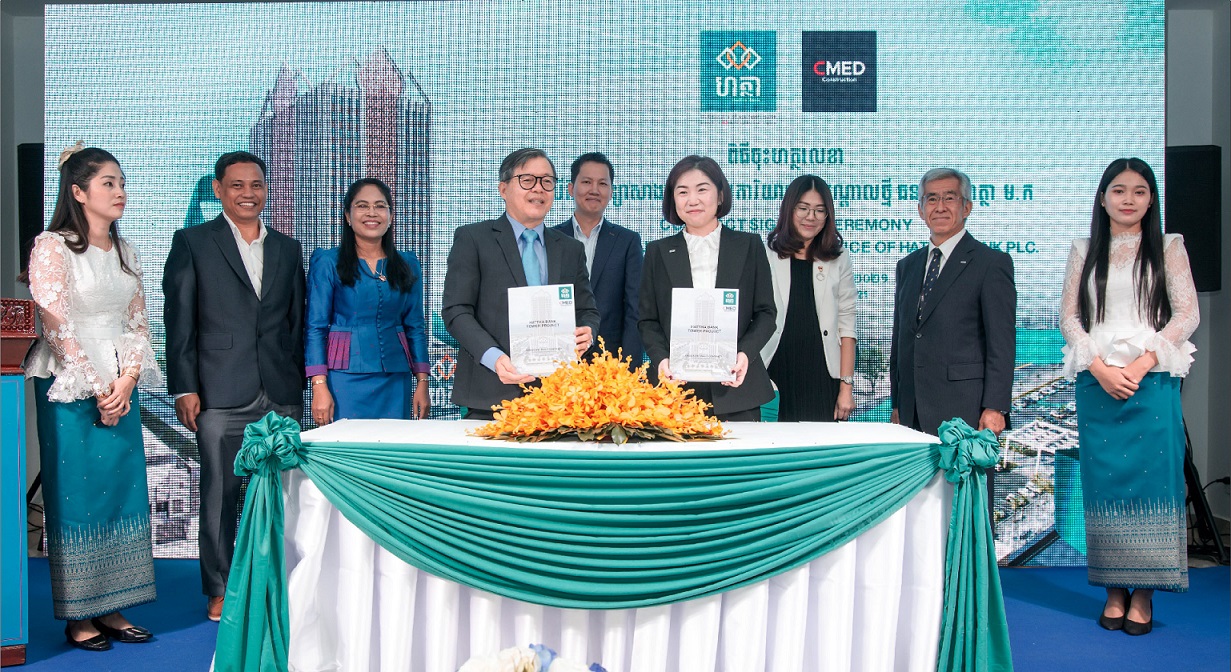 Phnom Penh, January 27, 2021: Hattha Bank, which was recently licensed as a commercial bank in August 2020, announced its new, huge and modern head office building to support its business operations growth. The new head office building project was officially announced at the contract signing ceremony with CMED Construction Co., Ltd. on January 27, 2020.
Hattha Bank has achieved rapidly successes in addition to the steady growth of its business, as at the end of 2020 it has been a very important milestone for its transformation from a deposit-taking microfinance institution into commercial bank, even though Cambodia as well as the world have been facing with COVID-19 pandemic. Today, Hattha Bank has signed a contract to build its new head office building in the center of Phnom Penh Capital which is of high potential for the economic development.
Oknha Huot Ieng Tong, President and CEO of Hattha Bank, said "The new head office building project has a total construction area of more than 40,000 square meters with 22 floors, covering an area of nearly 15,000 square meters along Samdech Techo Sen Blvd. (or Street 60 meters). And the new building has many functions, including office for staff, reception office, cafe, canteen, nursery and gym, etc. " He added "This new office building is built to meet the rapid growth of the business and staff and in response to the business plan in which we are committed to becoming the first-choice bank of our customers. Moreover, it will show prestige, build trust and provide comfort for all our customers and staff of Hattha Bank. After taking around one year on the project study, Hattha Bank has selected CMED Construction Co., Ltd to design and construct the new head office building.
Her Excellency Chea Sok You, Managing Director and Architect of CMED Construction Co., Ltd., said "CMED Construction is proud to partner with Hattha Bank in designing and constructing the entire new Head Office project, and particularly our common goal is to build quality and standard building. The design and construction plan of this project is aimed to obtain Green Mark certification from BCA and in accordance with the British Standard Building Code, technical standards and legal standards of the Kingdom of Cambodia, which will contribute to the promotion of the quality of the construction sector in our country as well".
As of the end of 2020, Hattha Bank has a total of 177 offices and 137 ATM networks nationwide with nearly 500,000 accounts opening (included nearly 300,000 savings accounts and 200,000 credit accounts). At the same time, loan portfolio was increased to more than USD 1.3 billion, an increase of about 26% compared to 2019, and the deposit balance increased to nearly USD 800 million, an increase of approximately more than 32% compared to 2019. The number of registered customers of mobile banking has increased by 105%, from more than 8,000 users to more than 16,000 users after it launched the newly upgraded mobile banking service in late 2020.