New Hattha Bank Tower Starts Constructing with Gross Floor Area of 40,000 Square Meter along Samdech Techo Hun Sen Blvd (Street 60 meters)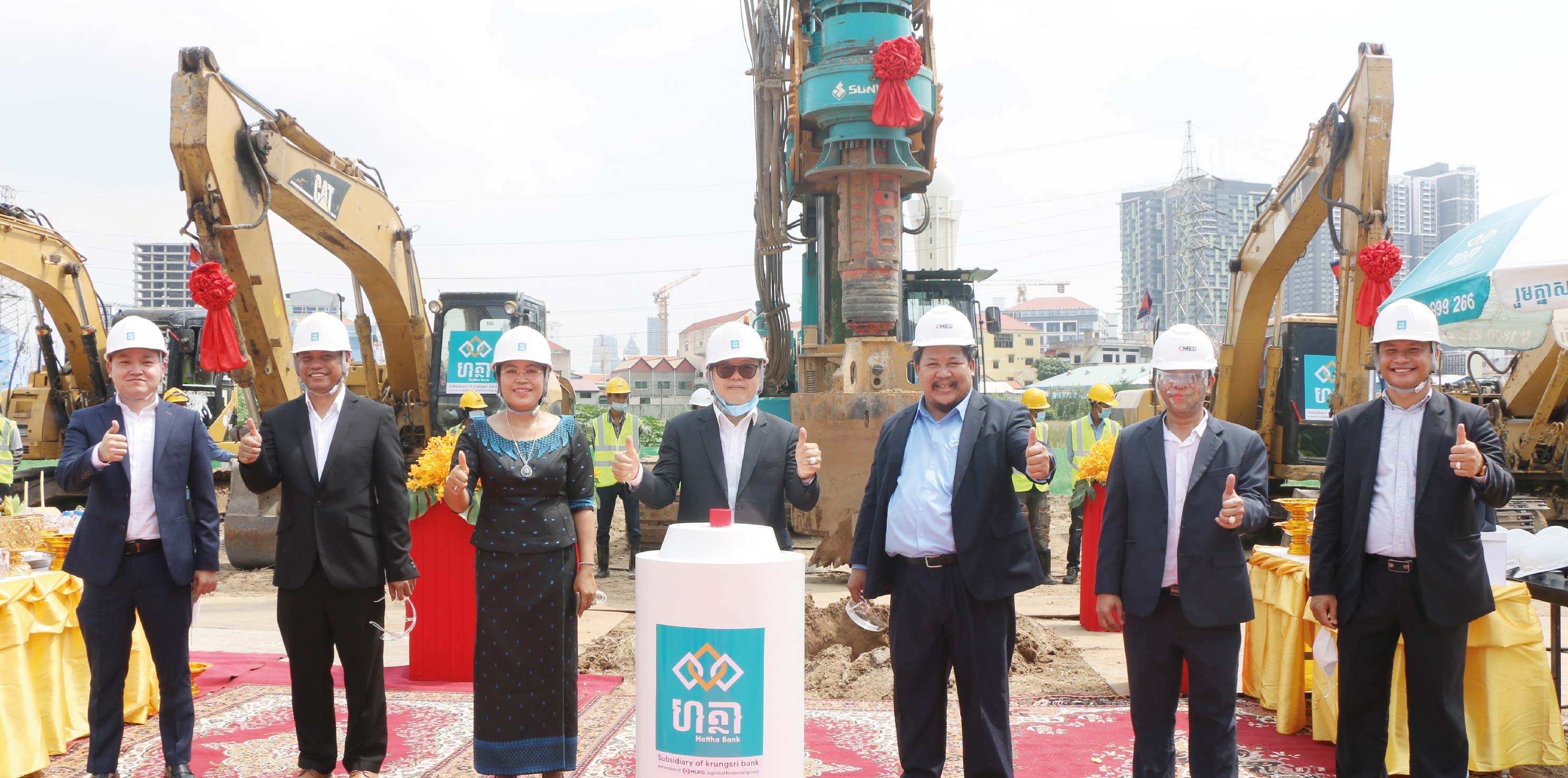 Phnom Penh: after obtaining a commercial bank license for less than one year from the National Bank of Cambodia, Hattha Bank organized the groundbreaking ceremony to start constructing its new Head Office Tower with gross floor area of 40,000 square meters along Samdech Techo Hun Sen Blvd (or street 60 meters). The ceremony was held on Monday July 5, 2021 and presided by senior management of Hattha Bank and CMED Construction Co., Ltd.
Oknha Huot Ieng Tong, President and CEO of Hattha Bank expressed his excitement of this outstanding achievement, and it was an unforgettable day for management and staff especially, for all the hard-working almost 30 years to achieve the results today. He said that "This new head office building is another great milestone that comes from the effort and dedication of all the managements and staffs of Hattha Bank. Also, this new office building is built to meet the rapid growth of the business and staff and in response to the business plan in which we are committed to becoming the bank of choice. Moreover, it will show prestige, build trust and provide comfort for all our customers and staff of Hattha Bank." The new head office building project has a total gross floor area of more than 40,000 square meters with 22 floors, covering an area of nearly 15,000 square meters. And the new building has many functions, including offices for staff, reception office, cafe, canteen, nursery, and gym, etc.
As of June 2021, Hattha Bank has 177 offices and 137 ATM networks nationwide, a total deposit balance of USD 875 million, a total loan portfolio of USD 1,418 million with nearly 500,000 accounts opening. Currently, Hattha Bank is upgrading its core banking system to the latest version to provide a wide range of financial services to meet customers' needs and an innovative digital banking services with secure and highly efficient financial service solution. Shortly, Hattha Bank will launch more banking services to better service our customers.
Hattha Bank is a subsidiary of Bank of Ayudhya (Krungsri), the fifth largest commercial bank in Thailand, and a member of Mitsubishi UFJ Financial Group (MUFG), a leading financial service group in Japan, and also a leading global financial service group in the world.