Hattha Bank Plc. Launches Hattha Mobile App's QR Payment Service in Thailand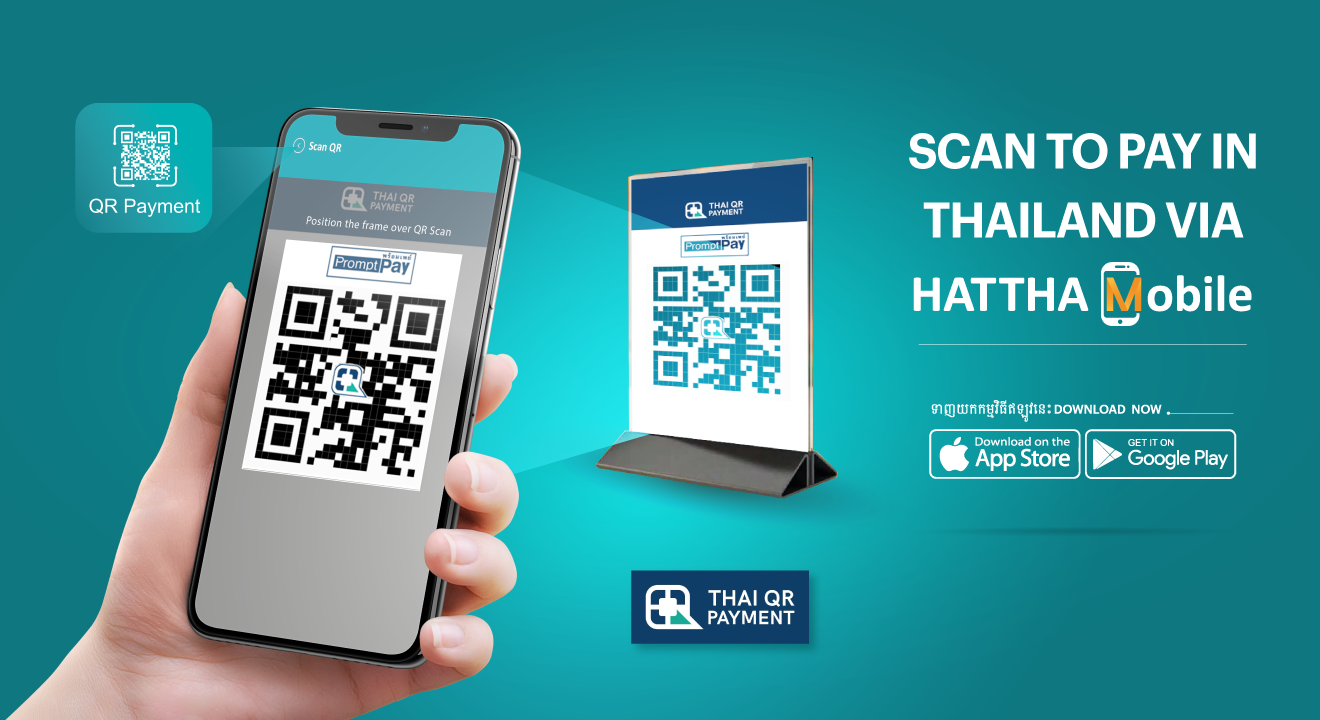 March 10, 2021: Now, all customers of Hattha Bank Plc. can pay for goods and services at their favorite shopping places in Thailand with just a few clicks on mobile banking. Let's have a Khmer Riel account with Hattha Bank Plc. now!
In Collaboration with Cambodian Commercial Bank (CCB) and Siam Commercial Bank (SCB)
Hattha Bank customers who travel to Thailand, can make payments in Khmer Riel simply by scanning the Thai QR code at more than 5 million merchants across the nation via Hattha Bank Mobile Application. This new product improves the client experience in reducing the burden of having to physically exchange Khmer riel to Thai Baht and carrying cash to make payments in Thailand.
With this exciting new product in place, Hattha Bank has provided our customers a more convenient, faster and secure payment option for the first time while reducing the risks of carrying physical cash, counterfeit bills, cash shortage or surplus. Please visit our nearest Hattha Bank branch to open an account to be able to self-activate your Hattha Mobile App instantly or call our Hotline: 1800 212 222.
QR Transaction amount per day: up to KHR 10,000,000
How to pay with QR Scan in Thailand:
First, log in to Hattha Mobile App, using password, Touch ID or Facial Recognition
Select "Scan QR" from menu
Scan QR code at merchants in Thailand for payments.
Fill the required information below:

Select account number.
Enter the payment amount (if required).
Enter description.
Choose "Continue" button.

Verify your payment transaction.
Press "Confirm" button and enter your pin
Then, your payment is successfully done!
About Hattha Bank Plc.
Hattha Bank Plc. is a leading commercial bank in Cambodia, licensed by National Bank of Cambodia. Having been operating for more than 25 years as Microfinance Deposit Taking Institution (MDI), Hattha Bank Plc. has been transformed to a commercial bank in 2020, and continues providing diversified and comprehensive range of banking, consumer finance, and other financial products and services to individual consumers and SMEs through its 177 branches and 137 ATMs (24/7) nationwide as of December 2020. As of December 2020, Hattha Bank Plc. has deposit balance at USD 800 million with close to 300K depositors and credit portfolio USD 1,300 million of 200K borrowers. Hattha Bank Plc. is a subsidiary of Krungsri (Bank of Ayudhya PCL and its group companies).
About Krungsri
Krungsri (Bank of Ayudhya PCL and its group companies) is the fifth largest financial group in Thailand in terms of assets, loans, and deposits, and one of Thailand's five Domestic Systemically Important Banks (D-SIBs) with 75 years of history in the country. Krungsri is a strategic member of the Mitsubishi UFJ Financial Group (MUFG), Japan's largest financial group and one of the world's largest financial organizations. Krungsri provides a comprehensive range of banking, consumer finance, investment, asset management, and other financial products and services to individual consumers, SMEs, and large corporations through 670 branches (631 Banking Branches and 39 Auto Business Branches) and over 33,431 service outlets nationwide. The Krungsri Group is the largest card issuer in Thailand with 9.5 million credit cards, sales finance, and personal loan accounts in its portfolio; a major automobile financing service provider (Krungsri Auto); one of the fastest growing asset management companies (Krungsri Asset Management); and a pioneer in microfinance (Ngern Tid Lor PCL).
In 2013, Krungsri became a subsidiary of MUFG Bank, Ltd. (MUFG Bank), which is the wholly‐ owned subsidiary of Mitsubishi UFJ Financial Group (MUFG), Japan's largest banking group and one of the world's largest financial groups. On September 2017, Krungsri was recognized as "A Domestic Systemically Important Bank (D‐SIB)" by the Bank of Thailand, playing a key role in driving the country's economic engines and financial system.
About MUFG (Mitsubishi UFJ Financial Group, Inc.)
Mitsubishi UFJ Financial Group, Inc. (MUFG) is one of the world's leading financial groups. Headquartered in Tokyo with over 360 years of history, MUFG is a global network with over 2,700 locations in more than 50 countries. The Group has over 180,000 employees, and offers services including commercial banking, trust banking, securities, credit cards, consumer finance, asset management, and leasing. The Group aims to "be the world's most trusted financial group" through close collaboration among our operating companies and flexibly respond to all of the financial needs of our customers, serving society, and fostering shared and sustainable growth for a better world. MUFG's shares trade on the Tokyo, Nagoya, and New York stock exchanges.
About Cambodian Commercial Bank (CCB)
CCB is the first commercial Bank in Cambodia since 1991 (30 years) with branches in 4 strategic areas
Cambodian Commercial Bank (CCB), 100% owned by SCB, is one of the sponsoring bank for the interoperable QR code payment between Cambodia and Thailand
Through our extensive commitment to serve both Thai and Cambodian customers, we at CCB have been and will always eager to improve and provide better services. This has been shown though our accomplishment to be the first Thai Bank to provide OFF-premise ATM, VISA Master Card, internet banking, etc in Cambodia.
About Siam Commercial Bank (SCB)
Siam Commercial Bank was established by royal charter on January 30, 1907 as the first Thai bank. During its more than 114 years in business, the Bank has played a leading role in providing the financial services needed in Thailand, developing deep expertise. Today, SCB is a leading universal bank, offering deposits and lending and a wide range of other products and services, to meet the needs of all customers. Our services are backed by our extensive banking network and continual pursuit of technological innovation.
Under the vision to serve as "The Most Admired Bank," SCB has established a well known strategic plan to respond to rapid change in the financial services industry, which is being reshaped by digital technology, regulatory change and new consumer behavior. As of 2019, SCB has surpassed 11.8 million mobile banking users and over 1.5 million merchants that could accept QR Payments.
For more information, please contact:
Call Center: 1800 212 222
Email: info@hatthabank.com
Website: www.hatthabank.com
Head Office: Building #606, St.271, Sansam Kosal 3 village, Boeng Tumpun 1 Sangkat, Mean Chey Khan, Phnom Penh Capital.