Krungsri and Hattha Bank Join Forces to Promote Real-Time Money Transfer between Thailand and Cambodia to Propel Cross-Border Business Expansions in ASEAN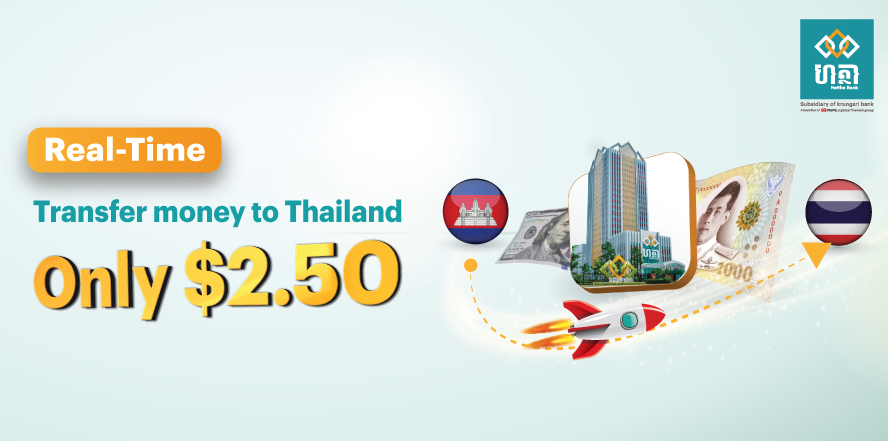 Bangkok (10 November 2021) – Krungsri (Bank of Ayudhya PCL) joins forces with Hattha Bank Plc. (HTB), Krungsri's wholly-owned and the top 5 largest commercial bank in Cambodia in terms lending portfolio, to strengthen cross-border transactions between Thailand and Cambodia through the launch of "Thai-Cambodian Cross-Border Real-Time Money transfer Service" through direct integration of bank networks via API to enhance the flexibility and convenience of business transactions between Thailand and Cambodia. This is in line with the Bank's Medium Term Business Plan (MTBP), which aims to develop financial innovations to connect customers' needs across ASEAN.
Ms. Yingluk Kongkasai, Krungsri Head of Transaction Banking Group, said "The cooperation project of direct network integration via Application Programming Interface (API) technology between Krungsri and its partner banks to develop real-time cross-border transaction services is part of the strategic directions of Krungsri's Medium Term Business Plan which aims to connect customers' needs in Thailand and ASEAN by leveraging the competitive advantage of MUFG strong network and the capabilities of developing financial products and innovations and turning them into service innovations that meet customers' needs domestically and abroad. The money transfer service will provide customers with faster, lower cost, and more convenience. Krungsri has been successful in API integration with Hattha Bank and is able to launch the services for Thai-Cambodian businesses as an initial phase before expanding to other partner banks in ASEAN. The services in Indonesia and Vietnam will be available within 2021 whereas the cooperation projects with other countries are currently under the planning process."
"We have seen a favorable growth of overall international money transfer transactions attributable to several factors including soaring international trades, investment, e-commerce businesses, and international labor mobility, despite prevailing challenges from COVID-19 pandemic. We believe that the linkage of the payment system between Krungsri and partner banks in ASEAN will be one of the mechanisms for accelerating the growth of cross-border trade and investment transactions. Moreover, the technological innovation of financial services will enable us to truly meet and satisfy people's needs.
Mr. Wanchairabin Jitwattanatam, Hattha Bank Deputy CEO said, "Amid the uncertainties in the wake of COVID-19 pandemic in 2020, the cross-border trade value between Thailand and Cambodia was as high as 7.2 billion USD and is expected to grow this year. The number of Thai companies and entrepreneurs investing and doing business in Cambodia has been rising continuously as well. Therefore, the successful linkage of APIs for real-time cross-border money transfer between Krungsri and HTB is an opportunity to facilitate trading activities between the two countries. Companies and entreprenures of both countries now have a very good option to do money transfer that is convenient, swift, and easy to access at the special exchange rate and lower service fee. The Bank believes that this is one of the best services available that will support bilateral trades between the two countries aligning with our business direction. Recently HTB launched the Thai-desk service to facilitate Thai corporates and entrepreneurs doing business in Cambodia."
Currently, the real-time international money transfer service between Thailand and Cambodia has been officially launched. In the first phase, the service is available for money transfer from Hattha Bank to the destination account of Krungsri Bank. Recipients in Thailand will receive the full transferred amount in their deposit account either USD, THB, or JPY at Krungsri. Customers in Cambodia can perform the transaction at service counters of all HTB 177 branches nationwide with a limit of 200,000 USD/transaction (no limit for number transactions per day) at a special exchange rate together with the promotional fee of only 2.5 USD/transaction from now until 31 December 2021. Later, the service will be available on Hattha Mobile.
Previously, Krungsri connected API with the Lao Development Bank (LDB) and provided Krungsri Blockchain Interledger to enable seamless and easy cross-border money transfer transactions between Thailand and Lao PDR through Krungsri Biz Online (KBOL) to facilitate entrepreneurs and large companies. At the same time, retail customers who wish to transfer money abroad can do it via KMA - Krungsri Mobile Application, which is convenient, secure, and supporting 15 major currencies.
-- END --
About Krungsri
Krungsri (Bank of Ayudhya PCL and its group companies) is the fifth largest financial group in Thailand in terms of assets, loans, and deposits, and one of Thailand's six Domestic Systemically Important Banks (D-SIBs) with 76 years of history in the country. Krungsri is a strategic member of the Mitsubishi UFJ Financial Group (MUFG), Japan's largest financial group and one of the world's largest financial organizations. Krungsri provides a comprehensive range of banking, consumer finance, investment, asset management, and other financial products and services to individual consumers, SMEs, and large corporations through 656 domestic branches (617 Banking Branches and 39 Auto Business Branches) and over 32,406 service outlets nationwide. The Krungsri Group is the largest card issuer in Thailand with 9.6 million credit cards, sales finance, and personal loan accounts in its portfolio; a major automobile financing service provider (Krungsri Auto); one of the fastest growing asset management companies (Krungsri Asset Management); and a pioneer in microfinance (Ngern Tid Lor).
Krungsri is strongly committed to the highest level of integrity in conducting its business. All Krungsri Group companies have been awarded accreditation from the Private Sector Collective Action Coalition Against Corruption (CAC) in collaboration with industry peers and stakeholders on a zero tolerance approach to corruption.
About Hattha Bank Plc.
Hattha Bank Plc. has been transformed into a commercial bank in August 2020 after operating for more than 27 years as Microfinance Deposit-Taking Institution (MDI). Currently, Hattha Bank has 177 branches and 137 ATMs to offer various financial services such as loans, deposits, money transfers, payroll service, mobile banking, and insurance referral service. As of September 2021, Hattha Bank has almost 500,000 accounts, asset more than 1,800 million, more than 1500 million loan, and more than 860 deposit.
Hattha Bank is a subsidiary of Bank of Ayudhya (Krungsri), the fifth-largest commercial bank in Thailand, and a member of MUFG Bank, the largest banking group in Japan, one of the largest and most diversified financial groups in the world.
More detail about Hattha Bank, please visit: www.hatthabank.com
About MUFG (Mitsubishi UFJ Financial Group, Inc.)
Mitsubishi UFJ Financial Group, Inc. (MUFG) is one of the world's leading financial groups. Headquartered in Tokyo and with over 360 years of history, MUFG has a global network with approximately 2,500 locations in more than 50 countries. The Group has about 170,000 employees and offers services including commercial banking, trust banking, securities, credit cards, consumer finance, asset management, and leasing. The Group aims to "be the world's most trusted financial group" through close collaboration among our operating companies and flexibly respond to all of the financial needs of our customers, serving society, and fostering shared and sustainable growth for a better world. MUFG's shares trade on the Tokyo, Nagoya, and New York stock exchanges. For more information, visit https://www.mufg.jp/english.
For further information, please contact:
Internal and External Communications Department
Bank of Ayudhya PCL
Tel: 02 296 4023
Email: Krungsri.PR@krungsri.com