Hattha Bank maintained the credit rating of BBB+ with 'Stable' outlook for four consecutive years from TRIS Rating with an upgrade on Standalone Credit Profile to A-/Stable.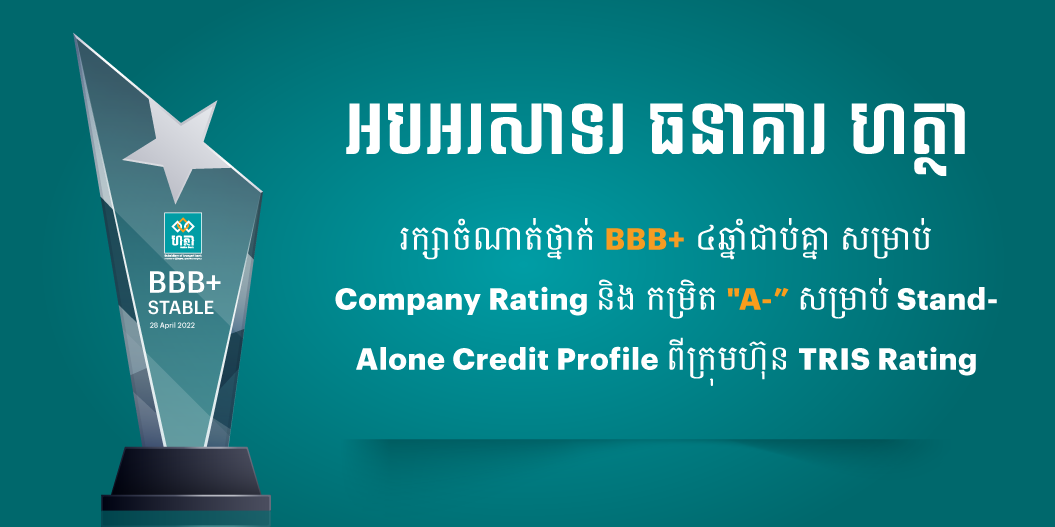 Phnom Penh, April 28, 2022, Hattha Bank, the second-largest commercial bank in terms of coverage network in the Kingdom of Cambodia maintained the company's credit rating at BBB+ for four consecutive years and A-/stable for stand-alone credit profile rating from TRIS Rating Co., Ltd., based in the Kingdom of Thailand. This rating indicates that Hattha Bank is stable in its business operations, strong position in the Cambodian market, has sufficient capital position, and strong and prudent risk management

The result of the rating is based on the measurements of key indicators, including:
- Strategic subsidiary of Krungsri Bank, the 5th largest bank in the Kingdom of Thailand
- 6th largest banking transaction in Cambodia
- Have a strong and sufficient capital positions
- Strong and sufficient liquidity deposit base
Oknha Hout Ieng Tong, President, and CEO of Hattha Bank said the results of this ranking (BBB +) are a testament to the public and our shareholders' commitment that Hattha Bank is pursuing the right business direction and high efficiency. I am confident that this rating will enable Hattha Bank to recruit a variety of sources of capital to contribute to the further growth of our business.
About Hattha Bank: Hattha Bank officially transformed from Hattha Kaksekar Microfinance Institution Limited into a commercial bank in August 2020 after providing financial services in Cambodia for over 27 years.
As of April 2021, Hattha Bank has a total of 177 branch offices, 137 ATMs, and more than 500,000 customer accounts with a total portfolio is more than USD $ 1.9 billion and a total savings of nearly USD $1.2 billion. The total number of customers using ATM cards is almost 80,000 and the total number of customers using Hattha Mobile is more than 90,000. With a wide range of financial services to customers such as credit, deposit/savings, local money transfer services, local bank transfers, ATM services, mobile banking services, payroll services, as well as insurance referral agent and many other financial services.
Hattha Bank is a subsidiary of Krungsri Bank, the fifth-largest commercial bank in the Kingdom of Thailand, and a member of the Mitsubishi UFJ Financial Group (MUFG), Japan's largest financial group and also one of the largest financial services alliances in the world