Hattha Bank launches its Visa Card to provide safe, convenient payment experience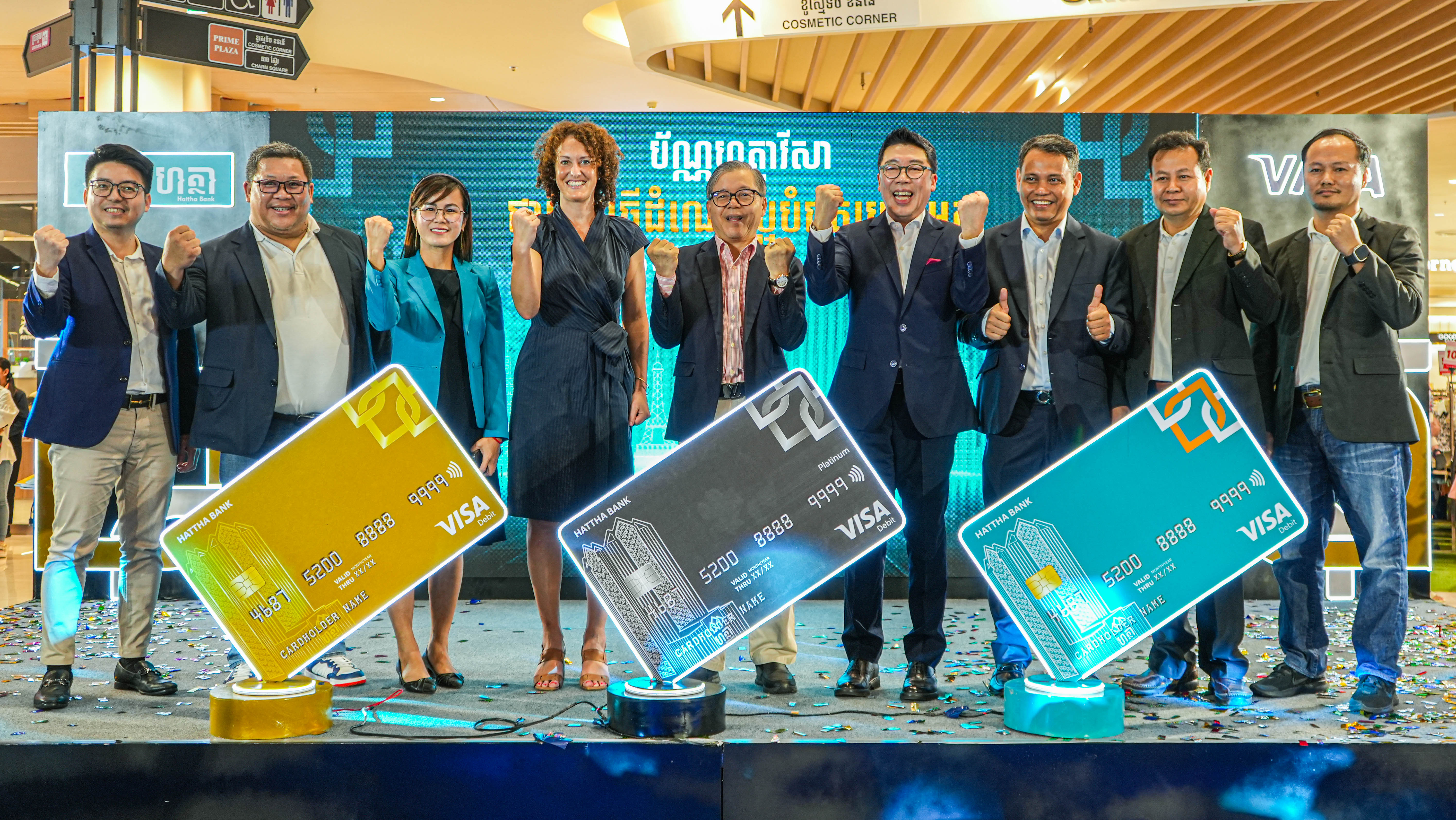 Phnom Penh, 19 November 2023: Hattha Bank, a subsidiary of Krungsri Bank, the fifth-largest commercial bank in Thailand and a member of Japan's MUFG Financial Group, announced today the official launch of the Hattha Visa Card at AEON Mall Mean Chey (AEON Mall 3). The launching ceremony was officiated by Mr. Oknha Hout Ieng Tong, President and CEO of Hattha Bank, and Ms. Ivana Tranchini, Visa Country Manager for Cambodia, along with senior management representatives from both companies and various strategic partners.
Today's event demonstrates Hattha Bank's commitment to providing its customers with a new, seamless and global digital payment experience that is characterized by ease, speed, convenience and security. This milestone marks another success for Hattha Bank, which consistently operates its business in a profitable manner while always prioritizing the needs of its customers.
Oknha Hout Ieng Tong expressed his enthusiasm for this significant achievement, stating, "We are thrilled to offer global digital payment services to our current and prospective clients. This marks a vital progression in our digital transformation plan as we expand our digital banking ecosystem to meet the needs of both retail and corporate customers." He further explained, "By utilizing Hattha Visa Cards, clients can conveniently and securely make online or in-store payments at numerous locations worldwide where the Visa logo is displayed."
Ms. Ivana Tranchini, we are excited to be partnering with Hattha Bank to provide Cambodian consumers with the security, reliability and convenience of a Visa debit card "Visa Consumer Payment Attitudes Study[1] has shown the use of credit and debit cards in Cambodia has grown steadily in recent years, along with interest in contactless cards and virtual banking. We at Visa are committed to bolstering Cambodia's digital transformation journey by optimizing the consumer payment experience with the most innovative digital payment solutions that connect Cambodians to each other and the rest of the world."
To celebrate this remarkable achievement, Hattha Bank is introducing special offers for new holders of their Visa cards. These promotions include a five-year waiver of annual fees and a 10% cashback program, in addition to the card's unique features. With Hattha Visa Cards, customers enjoy the convenience of making payments online and in physical stores worldwide wherever the Visa logo is accepted. Transactions are secure, as customers receive SMS alerts for payment transactions made via Visa point-of-sale (POS) terminals and One-Time Passwords (OTP) for online payments. Moreover, Hattha Bank provides exclusive lifestyle privileges to Visa Platinum cardholders, such as access to airport lounges and worldwide travel insurance coverage of up to USD1,000,000.
To enjoy all the benefits listed above, customers can apply for a Hattha Visa Card either at the nearest Hattha branch or by calling 1800 212 222 or 023 999 266.
About Hattha Bank:

Hattha Bank, a commercial bank with a presence in Cambodia for nearly 30 years, offers a comprehensive array of financial services to its customers. In the second quarter of 2023, Hattha Bank was Cambodia's third-largest commercial bank. Additionally, Hattha Bank has successfully maintained its strong standing by ranking fourth in terms of both loan balances and deposit balances among the top ten banks in Cambodia. Hattha Bank operates as a subsidiary of Krungsri Bank, the fifth-largest financial consortium in Thailand with a 77-year history. Krungsri Bank holds a strategic position within the MUFG Financial Group, the largest financial group in Japan and one of the largest globally.