Krungsri promotes growth of digital economy in ASEAN; joins hands with strategic partners to enhance potentials of Cambodian startups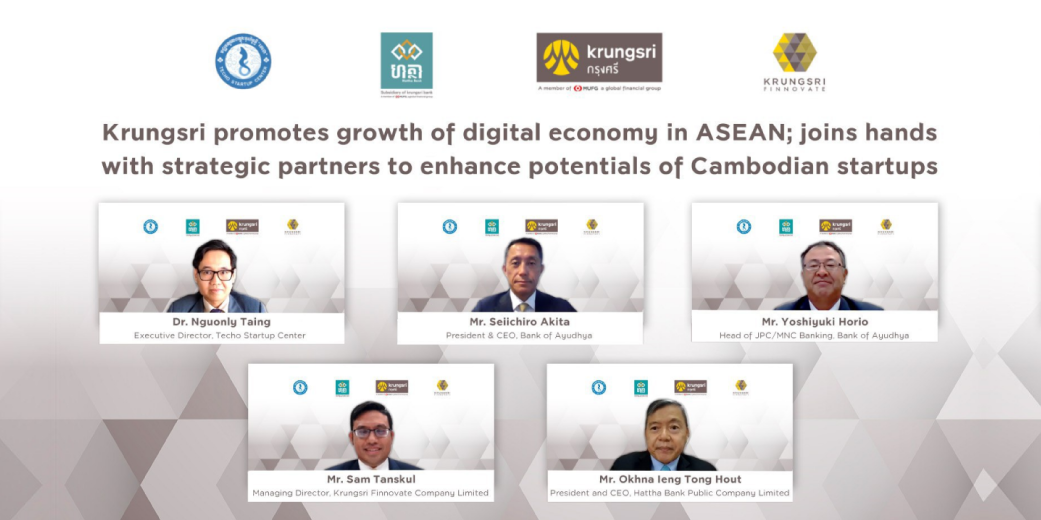 Bangkok (6 September 2022) – Krungsri (Bank of Ayudhya PCL) and Krungsri Finnovate advance to support investment in innovation technology and startups in ASEAN by synergizing with Hattha Bank to collaborate with Techo Startup Center, a government-funded organization established to promote the growth of Cambodian startups. This collaboration aims to maximize potentials and drive the growth of Cambodian startups towards international standards.
The virtual signing ceremony for the Memorandum of Understanding between the four organizations was held on 1 September 2022, with Mr. Seiichiro Akita, Krungsri President and Chief Executive Officer; Mr. Yoshiyuki Horio, Krungsri Head of Japanese Corporate and Multinational Banking (JPC/MNC Banking); Mr. Sam Tanskul, Managing Director at Krungsri Finnovate, Dr. Nguonly Taing, Executive Director at Techo Startup Center and Mr. Ieng Tong Hout, President & Chief Executive Officer at Hattha Bank Public Company Limited, participating in the ceremony. This MoU was concluded in order to strengthen the cooperation between Thailand and Cambodia in digital-related fields. Krungsri Finnovate will join Techo Startup in nurturing Cambodian startups through knowledge transfer programs as well as promoting marketing opportunities for these startups to be recognized in Thailand.
Mr. Seiichiro Akita, Krungsri President and Chief Executive Officer, spoke of this signing ceremony, "According to Krungsri's 2021-2023 Medium-Term Business Plan, we aim to build the ecosystem and partnership, and develop digital and information technology. ASEAN enhancement and expansion is also one of the key strategic directions under the MTBP that we commit to build connectivity across ASEAN markets to carry on our leadership in this region. The collaboration through this MoU conforms to our vision and mission to strengthen the technological advancement in Thailand as well as the business growth in ASEAN. We believe that our expertise together with MUFG strong network can support business expansion for startups in Cambodia and reinforce the continuation of economic growth of both countries. Krungsri is very delighted about this partnership and we are ready to participate in the continual development of the technological industry through our full collaboration.
Dr. Nguonly Taing, Executive Director at Techo Startup Center, said, "The Cambodian government has set the goal to drive the new form of national development with digital economy and has promulgated the digital economy and society policy framework for the country nation by laying the foundations to promote digital adoption that will lead to all aspects of social transformation in order to accelerate economic growth and promote social welfare in the new form. To facilitate this effort, the government has initiated the establishment of various relevant organizations, including the Techo Startup Center, which has the following 4 major missions: 1) To nurture startups to grow into successful businesses; 2) To build a startup ecosystem in Cambodia through a wide range of programs and activities; 3) To conduct research and draft out policy recommendations in the area of digital economy; and 4) to develop the factors for driving digital transformation. In order to achieve these missions, Techo Startup Center needs to work together with both domestic and international organizations to enhance its operational efficiency and create awareness. We are currently in good collaboration with Hattha Bank and thank Krungsri and Krungsri Finnovate for joining us in this MoU signing. We hope that this collaboration will bring about successful support and promotion for startups, creation of startup ecosystem and expansion of investment opportunities for digital business in Cambodia.
--Ends--
About Krungsri
Krungsri (Bank of Ayudhya PCL and its group companies) is the fifth largest financial group in Thailand in terms of assets, loans, and deposits, and one of Thailand's six Domestic Systemically Important Banks (D-SIBs) with 77 years of history in the country. Krungsri is a strategic member of the Mitsubishi UFJ Financial Group (MUFG), Japan's largest financial group and one of the world's largest financial organizations. Krungsri provides a comprehensive range of banking, consumer finance, investment, asset management, and other financial products and services to individual consumers, SMEs, and large corporations through 629 domestic branches (590 Banking Branches and 39 Auto Business Branches) and over 34,258 service outlets nationwide. The Krungsri Group is the largest card issuer in Thailand with 9.7 million credit cards, sales finance, and personal loan accounts in its portfolio; a major automobile financing service provider (Krungsri Auto); one of the fastest growing asset management companies (Krungsri Asset Management); and a pioneer in microfinance (Ngern Tid Lor).
Krungsri is strongly committed to the highest level of integrity in conducting its business. All Krungsri Group companies have been awarded accreditation from the Private Sector Collective Action Coalition Against Corruption (CAC) in collaboration with industry peers and stakeholders on a zero tolerance approach to corruption.
About MUFG (Mitsubishi UFJ Financial Group, Inc.)
Mitsubishi UFJ Financial Group, Inc. (MUFG) is one of the world's leading financial groups. Headquartered in Tokyo and with over 360 years of history, MUFG has a global network with approximately 2,400 locations in more than 50 countries. The Group has about 170,000 employees and offers services including commercial banking, trust banking, securities, credit cards, consumer finance, asset management, and leasing. The Group aims to "be the world's most trusted financial group" through close collaboration among our operating companies and flexibly respond to all of the financial needs of our customers, serving society, and fostering shared and sustainable growth for a better world. MUFG's shares trade on the Tokyo, Nagoya, and New York stock exchanges. For more information, visit https://www.mufg.jp/english.
For further information, please contact:
Internal and External Communications Department
Bank of Ayudhya PCL
Tel: 02 296 4023
Email: Krungsri .PR@krungsri.com