Win an iPhone 14 Pro Max every month simply by performing transactions on Hattha Mobile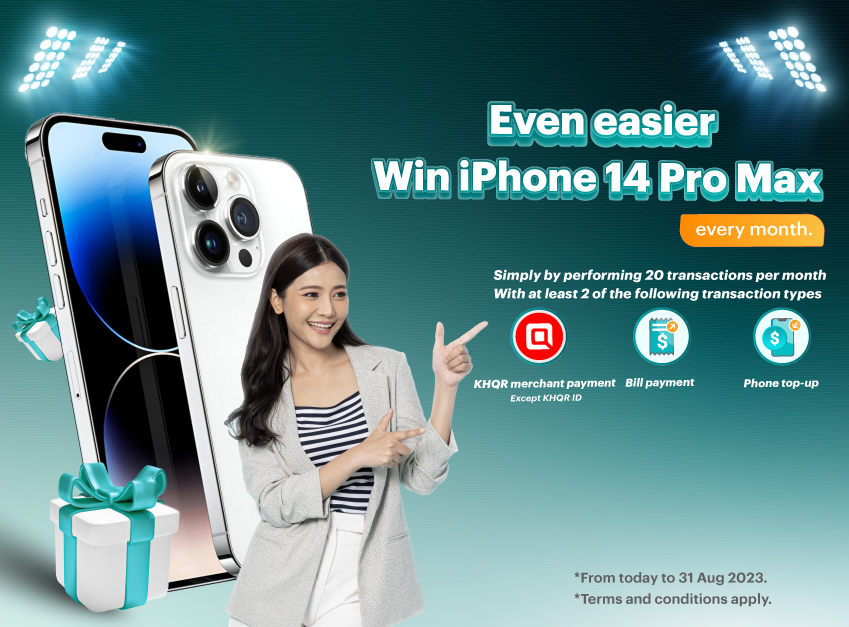 Simply by performing transactions on Hattha Mobile, you will get a chance to participate in the monthly lucky draw with a brand-new iPhone 14 Pro Max up for grabs (A total of 3 prizes during the promotion)! This promotion starts from June 1 to August 31, 2023.
Terms and Conditions:
1. This program is open to both new and existing customers of Hattha Bank.
2. To get the lucky draw entry, you must perform at least 20 transactions per month on Hattha Mobile with at least 2 out of 3 transaction types below:
- Hattha Bank's KHQR merchant payment and another bank's KHQR merchant payment via Hattha Mobile (excluding KHQR ID)
- Top up via Hattha Mobile
- All types of bill payments via Hattha Mobile

Note: All types of transfer transactions are ineligible in this promotion.

3. All transactions must be at least KHR 20,000 or USD 5 except for mobile top-ups (no minimum payment).
Lucky Draw Procedure:
1. The lucky draw will take place the following month and the winner will be announced on Hattha Bank's official Facebook page.
2. If none of the clients meets the above requirements, the lucky draw will not take place.
How to Claim the Prize:
1. Customers must come to redeem the prize at Hattha Bank's Head Office within 7 working days after the announcement.
2. The prize will be given to the winner at Hattha Bank's Head Office (Phnom Penh).
3. The winner must agree with Hattha Bank to have their photos published on Hattha Bank's communication channels.
4. If the winner fails to redeem the prize within the required period, the prize will be forfeited.
Note: Hattha Bank reserves the right to change the terms and conditions without prior notice.